LA CIUTAT
Tourist Guide
Welcome to Benicarló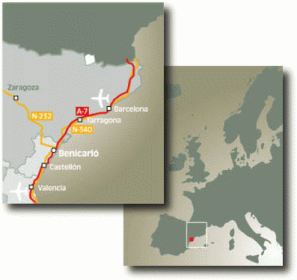 Our choice of holiday destination is always important. We want a place that fulfils all our expectations, that provides us with new experiences; a place to remember and one where we will want to return.
Benicarló, on the Spanish eastern coast, is one of those places. It is never overcrowded with tourists, and has a distinct Mediterranean character. The city's inhabitants, of whom there are over 20,000, are its greatest asset.
Bathed by a blue sea and with a favourable climate, Benicarló is both a modern city and a seafaring town with traditions.
With infrastructures that are in keeping with a small city, Benicarló is a comfortable place with a wide variety of entertainment and cultural activities. Benicarló stands out for its cuisine (especially the quality of its seafood and produce from the land), its commercial activity, and the fact that it is possible to practice most sports in excellent installations and enviable surroundings.
Here, you can also find campsites, villas, tourist apartments and top-quality hotels, such as the national parador «Costa de Azahar», which will guarantee your comfort during your stay in our city. [+info]